Save the Date: June 1-2, 2023
10th Annual World Patient Safety, Science & Technology Summit
The 10-year anniversary marks professionals like you making a significant difference in eliminating preventable medical errors. Please visit psmf.org for more details.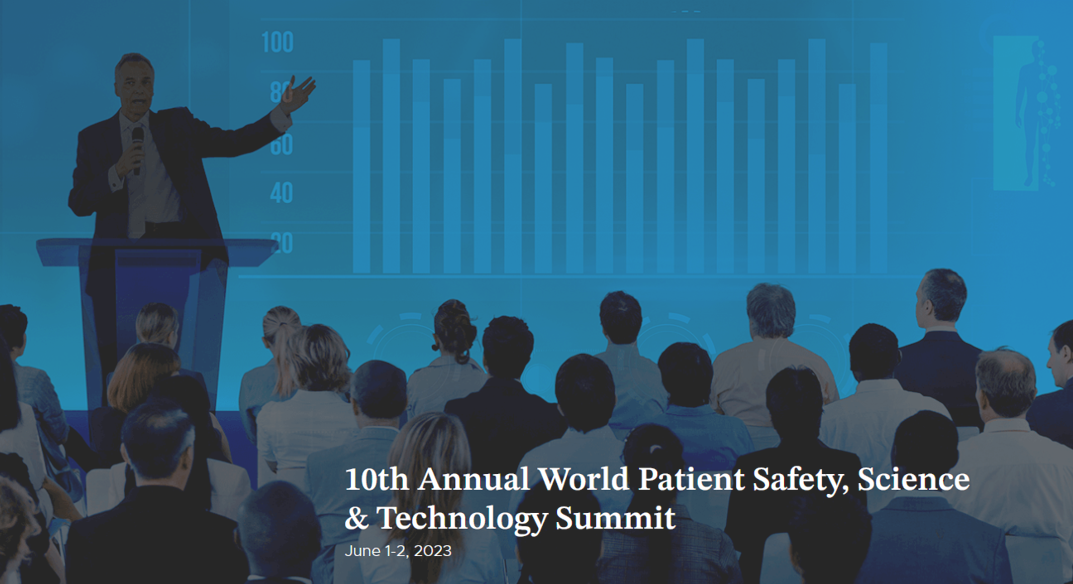 Patient Safety Leadership Award Recognition
Joe Kiani Receives the 2023 Robert L. Wears Patient Safety Leadership Award
Our Founder Joe Kiani has received the 2023 Robert L. Wears Patient Safety Leadership Award. Named in honor of emergency medicine physician Robert L. Wears for his pioneering work in patient safety, the annual award recognizes individuals and organizations that have significantly impacted the field of patient safety through critical analysis, research, education, or knowledge dissemination.
More than a decade ago, Joe made it his life's purpose to eliminate preventable medical harm and create safer healthcare systems around the world. The global nonprofit he founded, the Patient Safety Movement Foundation, has inspired thousands of clinicians to make a public commitment to ZERO harm. Joe brought together the best patient safety minds to create Actionable Evidence-Based Practices to address the most common adverse events and provided them to every hospital without charge. Joe will be the keynote speaker at our 10th Annual World Patient Safety, Science & Technology Summit on June 1–2 in Newport Beach.
Letter from CEO
In December 2022, the Agency for Healthcare Research and Quality (AHRQ) published the results of a systematic review they had commissioned on diagnostic errors in emergency departments (ED) in the United States. The review was conducted by the Johns Hopkins University Evidence-Based
Practice Center. It concluded that 1 in 18 ED patients received an incorrect diagnosis, and as a result, 1 in 50 suffered an adverse event, and 1 in 350 suffered permanent disability or death.
The authors estimate that with 130 million ED visits a year in the US, 7.4 million patients are misdiagnosed, 2.6 million suffer an adverse event as a result of this, and 370,000 suffer serious harms from diagnostic errors. Five conditions account for 39% of serious misdiagnosis-related harms: stroke, myocardial infarction, aortic aneurysm/dissection, spinal cord compression/injury, and venous thromboembolism.
The root causes of these diagnostic errors were mostly cognitive errors linked to the process of bedside diagnosis. These figures are also consistent with diagnostic errors and harm rates in primary care and inpatient settings. The American College of Emergency Physicians wrote an open letter challenging the AHRQ Report. This prompted Jonathan Edlow and Peter Pronovost to write a Viewpoint, which was published in the Journal of the American Medical Association at the end of February. They commented, as the AHRQ pointed out, "the ED is one of the most challenging clinical settings to practice medicine." Diagnosis is not always easy and may take time and tests to fully elucidate, therefore the goal should be the safe disposition of the patient while the diagnosis is being elucidated. However, they emphasized that an incorrect diagnosis due to incomplete data resulting in harm should still be a target for system-based diagnostic quality improvement.
Edlow and Pronovost recommend a systems approach to reduce diagnostic errors and greater transparency on the number of diagnostic errors. This is very similar to the Patient Safety Movement Foundation's goals to reduce preventable harm across healthcare: Actionable Evidence-Based Practices, Transparency of Data, Aligned Incentives, and a National Patient Safety Board.
They conclude that we need to accept that physicians, being human, are fallible, and a system-level solution must be designed and put in place. The AHRQ report concludes that misdiagnosis-related harm rates in the ED are consistent with what has been found in other clinical settings.
Yours,


Michael A.E. Ramsay, MD, FRCA, Chief Executive Officer, PSMF
Doctor's Day, March 30
This Doctors' Day we want to recognize all the safe care given by the medical professional community. We have a great appreciation for all the physicians who follow the evidence-based practices to ensure quality outcomes for all patients. The annual observance on March 30 began in 1933 to recognize the first use of ether anesthesia by Dr. Crawford W. Long. The day continues to celebrate medical advances and the doctors everywhere who put so much care into the safety and well-being of every patient they treat, day in and day out. Doctors' Day is a great time for everyone to thank the doctors in their lives, schedule a much-needed checkup appointment, and practice healthy lifestyle habits.
Patient Safety Awareness Week, March 12–18
Watch Dr. Dan Cole, Dr. Sanaz Massoumi, Bernadette Wilson, and Brandyn Lau discuss the importance of patient safety awareness.
International Women's Day, March 8
Melanie Whitfield from Kingston Hospital NHS Foundation Trust talks about the role of women in reaching ZERO patient harm.
Fellowship Spotlight
Dr. Ebikapaye Okoyen, MD, participated in the first cohort of our Patient Safety Fellowship Program. Working for the Ministry of Health in Yenagoa, Nigeria, his role as a program manager focuses on quality of care and patient safety. In this interview, he discusses how the fellowship helped increase his impact in advocating for patient safety and training front line healthcare workers in his home country.
Join the Patient Safety Fellowship Program
The application period for admission for 2024 Global Interprofessional fellowship opens May 1st and runs through July 1st. This unique educational opportunity enables healthcare professionals around the world to expand their knowledge in the theory and practice of patient safety. Presented via monthly virtual classroom sessions, the program combines a year-long curriculum developed by patient safety experts in a variety of areas with a hands-on improvement project to explore and advanced issues of patient safety in each fellow's respective field.
"My takeaway from the fellowship program is the wealth of knowledge I have gained from my faculty and peer fellows."
Dr. Ebikapaye Okoyen
"I was able to present at a summit, moderate a webinar, and be an expert in the field as a result of participating in the Patient Safety Movement Foundation fellowship program and I am grateful for the opportunity."
Dr. Samar Hassan
Chairman's Column
"Slow, Siloed, Disjointed and Dismissive"
How often have we heard these terms used in the delivery of healthcare and in relation to how we do not support our patients or their families when care and treatments have gone wrong.
These were the terms used to describe the pitiful response to patients in the 2020 UK landmark review, First Do No Harm, a comprehensive and independent review of medicine and medical device safety, with particular reference to the use of pelvic mesh, sodium valproate during pregnancy, and Primidos, an oral hormone pregnancy test in the 1960s and 70s used by thousands of women. Today, there is evidence to suggest this drug caused life-changing and devastating congenital abnormalities, stillbirths, and miscarriages.
The author was Baroness Julia Cumberlege, a long-time supporter of improving the safety of patients and also a campaigner for the rights of women in regard to their mental and physical health. The First Do No Harm report was commissioned because women did not feel listened to, or their concerns acknowledged. It highlighted the need to better protect and listen to patients, and when the UK government published its formal response to the recommendations, it committed to appointing a Patient Safety Commissioner with a remit covering medicines and medical devices.
As part of this response, further actions were put in place to deliver a new health bill to Parliament, which included the process to install the first NHS Patient Safety Commissioner. The Health and Care Act 2022 also established the Health Services Safety Investigations Body to investigate patient safety incidents in England.
The first NHS Patient Safety Commissioner, Dr. Henrietta Hughes, is now in place, and she has recently published her 100-day report. In it, she sets out not only what she has learned from listening to many over the period but, just as important, what she intends to do and how she intends to act. She has three key priorities in her first year:
Changing the healthcare culture to put patients first — to improve the way that organizations listen to patients and act on their views.
Support those who have been harmed by a pelvic mesh. This includes helping patients to access their choice of specialist mesh center follow-up.
Reduce the number of babies exposed to sodium valproate. This includes ensuring that all women of childbearing potential who are taking the medicine have access to highly effective contraception and the right information about risks in pregnancy.
As I found at the Global Ministerial Summit on Patient Safety recently in Switzerland, the challenge to the over 80 ministers and governments who attended is to act quickly now that it has become an imperative, as Covid-19 taught us that we can.
That imperative to eradicate avoidable harm is ever present in the lives of millions of patients, their families, and healthcare staff. The time for narrative is over; it is now the era of action and implementation of evidence-based practice to rebuild trust and reduce harm. We must now also activate and empower patients and staff to speak up and push beyond advocacy to implement the required change.
We are all looking forward to our Summit at the beginning of June, and I hope that as many as possible will be able to join. This is a time of great turbulence in many elements of our lives around the world, creating huge challenges to ourselves, our families, and our populations. It has also produced many challenges to those systems of support of which we are often a core part as health providers, manufacturers, and professionals who care deeply about the inequities and inequalities that face all systems in every corner of our world.
Our ambition is that this year's Summit will give us a real opportunity to listen, learn, and reflect on how we can rise to the challenge to act and implement, with patient activation at the core!
Yours,


Mike Durkin, OBE, MBBS, FRCA, FRCP, DSC
Innovation Corner
Eliminating Wrong-Site Surgeries
Wrong-site surgeries are regularly one of the top 3 sentinel events reported to The Joint Commission.1 In 2022 the American College of Surgeons highlighted a statistic that has not changed over the past several decades: 40 people in the U.S. suffer from a wrong-site surgery each week.2
Surgi-Sign is a temporary tattoo that serves as a visible checklist to help prevent wrong-site surgeries. This fill-in-the-box technology direct the surgeon to write his/her initials in the surgical site along with 3 additional checkboxes for the patient, nurse, and anesthesiologist to crosscheck and confirm with a written checkmark that the correct surgical site has been identified.
Similar to the airline industry that uses crosschecks and visual indicators to show each door has been properly armed Surgi-Sign is a visual checklist that transforms the current passive, verbal site confirmation to an active, visible one, for the whole team to see. This is to actively involve the entire surgical team, including the patient, in site confirmation.
1. Patra KP, De Jesus O. Sentinel Event. StatPearls Publishing; 2022.
2. Join surgical patient safety organizations in recognizing National Time Out Day. ACS. https://www.facs.org/for-medical-professionals/news-publications/news-and-articles/acs-brief/june-7-2022-issue/join-surgical-patient-safety-organizations-in-recognizing-national-time-out-day/.
In the News
DONOR TESTIMONIALS — WHY I GIVE
GOVERNANCE BOARD
Mike Durkin, OBE, MBBS, FRCA, FRCP, DSC, Chairman of PSMF, Senior advisor on Patient Safety Policy and Leadership, Institute of Global Health Innovation, Imperial College London
Steven J. Barker, PhD, MD, Chief Science Officer, Masimo Corporation, Professor Emeritus of Anesthesiology, University of Arizona Health Sciences
Robin Betts, RN, CPHQ, MBA-HA, Vice Chair, PSMF, Vice President, Safety Quality & Regulatory Services, Kaiser Foundation Hospitals and Health Plan, Kaiser Permanente Northern California
Alicia Cole, Patient Safety Consultant
Javier T. Davila, MD, MFS, Ambassador, PSMF in Mexico, Former Medical Director, Mexican Social Security Institute, Head of Medical Education, Research and Health Public Policy
Omar Ishrak, PhD, Executive Chairman and Chairman of the Board of Directors, Medtronic, Chairman of the Board of Directors, Intel
Philip D. Lumb, MB, BS, MD, MCCM, FCCP, Professor of Anesthesiology and Trauma Surgery, Keck School of Medicine at University of Southern California
Joe Kiani, Founder and Immediate Past Chairman of PSMF, Founder, Chairman & CEO of Masimo
Sarah Kiani, Director, Masimo Foundation for Ethics, Innovation, and Competition
David B. Mayer, MD, Executive Director, MedStar Institute for Quality and Safety
Jannicke Mellin-Olsen, MD, DPH, Past President, World Federation of Societies of Anesthesiologists
Jim Messina, CEO, The Messina Group
Najmedin Meshkati, Ph.D, MS, Professor of Civil/Environmental Engineering, University of Southern California
Charlie Miceli, CPM, Treasurer, PSMF, Chief Supply Chain Officer, Network VP of University of Vermont Health Network
Michael A.E. Ramsay, MD, FRCA, Chief Executive Officer, PSMF
Abbasseh Towfigh, MPD, Executive Director and Secretary, Ayeneh Foundation
Vonda Vaden Bates, Patient Advocate, CEO, 10th Dot
OUR STORY
In 2012, Joe Kiani founded the nonprofit Patient Safety Movement Foundation (PSMF) to eliminate preventable medical errors in hospitals. His team worked with patient safety experts from around the world to create Actionable Evidence-Based Practices (AEBP) that address the top challenges. The AEBP is available without charge to hospitals online.
Hospitals are encouraged to make a formal commitment to ZERO preventable deaths, and healthcare technology companies are asked to sign the Open Data Pledge to share their data so that predictive algorithms that can identify errors before they become fatal can be developed. The Foundation's annual World Patient Safety, Science & Technology Summit brings together all stakeholders, including patients, healthcare providers, medical technology companies, government employers, and private payers. The PSMF was established through the support of the Masimo Foundation for Ethics, Innovation, and Competition in Healthcare. For more information, please visit psmf.org.